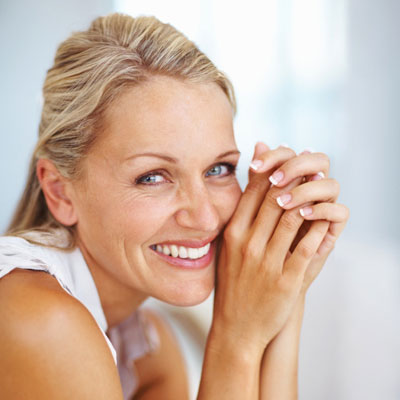 We all want to look younger or preserve our youth for as long as possible, but how? Most of us know that a healthy diet and regular exercise is the fountain of youth, but there are many other things we do in our daily routine that can help us maintain our natural beauty. As a cosmetic dentist in Beverly Hills, my patients welcome my Glosman AntiAging™ procedure as a holistic approach to their overall health and beauty, and we could not agree more.
By incorporating a holistic approach into my practice, I believe I can improve my patients' overall health and well-being by helping them start and practice an anti-aging regiment. My extensive background in the health and beauty fields helped me design a procedure that includes oral health and its relation to the entire body, working together to make a whole new you.
How Does the Glosman AntiAging™ Treatment work?
The overall intention of the Glosman AntiAging treatment is to help make you feel younger by adopting modern dental techniques with holistic suggestions that have been practiced for centuries. I start by establishing a treatment plan that is customized to each patient. The plan typically provides motivating and revitalizing suggestions for cosmetic and restorative dentistry procedures, a healthy eating plan, and an assortment of oral and skincare products that I use myself.
What's the Process?
To best create a plan that restores your vitality, I must first understand your needs and goals. A quick consultation by a cosmetic dentist can provide a wealth of information, such as talking about your habits, lifestyle and personality, taking into consideration your age, gender, and fitness level. I then analyze all these characteristics to establish a personalized plan that works for you. The result is to rejuvenate your smile, your appearance, and your health.
Glosman AntiAging™ Treatment Suggestions May Include:
Advanced dental technology: By evaluating oral health and your facial features, I may recommend cosmetic dentistry to restore a collapsed bite, sunken upper lip, for example, or anything I see that could improve your smile. Procedures may include my Glosman DentaLift, Glosman Liplift, or any combination of treatments that are part of a comprehensive smile makeover.
Healthy eating plan: Health is one of my passions. I love to talk to my patients about things I have learned over the years about various types of foods that embody healthy living. As a cosmetic dentist, foods that help maintain a neutral pH level in the mouth is something I always include in a healthy eating plan. By maintaining a healthy pH level, the body can prevent ailments such as infections and tooth decay, while drastically slowing down or halting the aging process. Antioxidants, for example, are high on the list of desired nutrients; because of the effects antioxidants have on free radicals.
Oral and skin care products: How you treat your body on the outside is just as important as how you treat your body on the inside. I have put together what I think are the best possible products for health and beauty. At my dental spa in Beverly Hills, I offer an exclusive line of Advanced Dental Health + Beauty products to give you all the tools you need in one complete package.
What Kind of Results Can I Expect?
Aside from a new smile and boosting your natural facial features, the Glosman AntiAging treatment will also lead to increased energy, stronger immune system, improved skin, better night's rest–not to mention your renewed confidence in the beautiful new you.
For more information or to schedule an appointment with a cosmetic dentist in Beverly Hills, please contact Arthur Glosman DDS.